ROV Design
Here is the latest design for my current ROV. I have gone through several ROV designs and this is the best so far. The design allows to make adjustment to the over all structure I used PVC, epoxy putty (very useful stuff!) and 1/4 Plexiglas.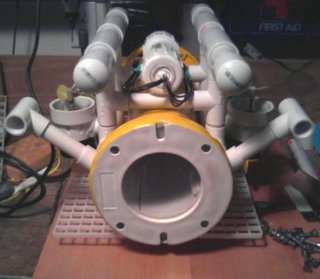 I have a few more modifications to do, the computer interface and the interface software to write. As I start the next leg of the project I will post more details and explanations of the project as well as the components to interface the ROV with my laptop.


Here is the Google Sketch Up file. The photos below are made with using x-ray edge. As you can tell from the actual ROV, I have made some modifications during the build.
smallROV3.skp
Top View
Side View
Labels: home built rov, PVC ROV, ROV, Underwater ROV